Can you guess how many calories are in Delta Airline's Chicken Caesar Wrap? 840! That's quite a calorie-heavy lunch.

Luckily, many airlines provide more healthy alternatives. Air Canada, for example, offers a pasta salad with sundried tomato dressing and chicken strips for just 330 calories, and Virgin Airlines, the airline offering the healthiest options, offers a roasted pear and arugula salad for 360 calories.

If you'd like a bit more control over your choice of food while traveling, consider eating at the airport before your flight. In the terminal, you'll likely be able to find several more healthy options, including sandwiches, salads and soups.

Plan ahead to head off overeating when traveling.
Here are some tips on how to eat healthy when traveling by air:
Don't go to the airport hungry: Eat a snack before you get to the airport to avoid having to consume any of the airport food, especially since there are usually limited healthy options.
Come prepared: Bring a sandwich and some of your own snacks with you on the plane so you don't have to rely on the airport/plane food.
Stay hydrated: It is easy to become dehydrated on a plane so keep drinking water. A lot of times we confuse thirst for hunger, so when you think you are hungry, before you call the flight attendant over for an in flight snack, grab a bottle of water first.
Continue Learning about Eating Habits and Nutrition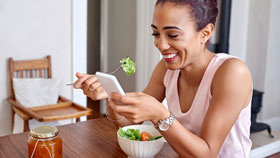 Three meals a day or five? That's only one aspect of the behavior known as eating habits. There is also the matter of style. Do you plan your meals or eat on the run - do you eat when you are happy, sad, or stressed - these are ot...
hers. Recognizing your eating style can help you work to achieve healthier eating habits.
More