Most meals are going to be out to eat when on vacation so here are some tips to guide you to healthier choices:
Don't skip breakfast: Breakfast is the most important meal of the day. If your hotel offers a free continental breakfast avoid the sugary, carb laden pastries and bagels. Start your day with a well balanced meal. Choose some oatmeal to get your whole grains, eggs for protein and some fresh fruit for some good vitamins and minerals.
Eat out, don't pig out: When out to eat at a restaurant scan the menu first. Avoid the foods that are fried or have a "special" sauce or cream sauce. Instead choose foods that are grilled broiled, steamed or baked. Most importantly at the restaurants watch your portions. Consider choosing an appetizer as your meal or a kid's portion or consume 1/2 of your entree. Don't feel compelled to finish all the food in front of you, listen to your body and stop when you are full! Since you are on vacation it is always a good idea to enjoy the foods the area is known for, such as grilled fishes from the sea or fruit desserts in tropical destinations.
Indulge responsibly: It is vacation, enjoy yourself. If you are in a place that is famous for a certain food/dessert, enjoy it -- once, not everyday. It is all about moderation.
Here are some tips for eating healthy while on vacation:
Don't skip meals. Watch your portion sizes.
Refuse the minibar key.
Ask the concierge at your hotel if he or she can recommend restaurants that serve relatively healthy fare.
Try to limit yourself to two low-calorie alcoholic drinks per day.
If you're flying, pack healthy transportable snack foods like nuts and granola-type bars to eat on the plane and to have when you get to your destination.
If you're traveling by car, pack a cooler with healthy snacks such as yogurt, fruit, and string cheese.
If your hotel room has a kitchenette with a fridge, find a supermarket and purchase healthy snack foods and easy to-fix breakfast items.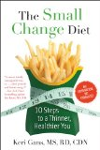 Here are five simple tips to help you eat healthy on vacation so the only extra weight you bring home is in the form of those memorable souvenirs:
Pack and take nonperishable items with you. Some faves: protein powder, protein bars and nuts. Be sure to pre-portion out snacks like nuts and healthy popcorn, so you don't eat the entire bag!
Check out the local grocery stores at your final destination and stock up on proteins, carbs, fruit, veggies, and healthy fats. And lots of water! Don't know where to go? Ask around -- your hotel staff and taxi and bus drivers are a wealth of great information!
If your hotel room doesn't come with a mini fridge and a microwave, ask for one when you make your reservation or when you arrive. And then stock that mini fridge with lots of healthy options for you to grab and go or prep right in your room.
Always carry a shaker bottle with you so you can make protein shakes no matter where you are.
Eating out while traveling? Many restaurants have nutritional info for their menus on their websites. Take a few minutes and plan ahead, and you won't be full of regret after that last bite. If the portion sizes are large, split with a friend or ask for half of it to go! Note: Many fitness apps have great nutritional info for many restaurants too, so check them out!
This content originally appeared on
HeidiPowell.net
.
Continue Learning about Eating Habits and Nutrition