People lose their appetites for many reasons, including stress, illness or medication side effects. If you find you are rarely hungry, consider ways to healthfully stimulate your appetite:
Add color, texture and aroma to your meals to make them more appealing. Easy additions include brightly colored crunchy vegetables.
Eat with friends and family. Sometimes the fun of dining with others can boost your appetite.
Fill your house with enticing smells such as fresh baked goods.
Keep your favorite healthful foods on hand. Sometimes convenience can aid you in eating more.
Engage in physical activity just before you eat. Even a short walk can increase your appetite.
If stress is a problem for you, try to keep conversations during meals pleasant.
If you remain concerned about your lack of appetite, contact a registered dietitian for additional advice.
Continue Learning about Eating Habits and Nutrition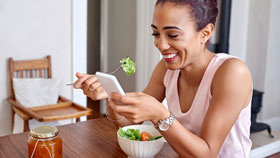 Three meals a day or five? That's only one aspect of the behavior known as eating habits. There is also the matter of style. Do you plan your meals or eat on the run - do you eat when you are happy, sad, or stressed - these are ot...
hers. Recognizing your eating style can help you work to achieve healthier eating habits.
More