All of our actions and decisions are governed by our core beliefs. Our core beliefs define the limits of what we will and will not do. You may need to change your core beliefs in order to get healthy. At this point, you know that eating more vegetables has health benefits, but you may not really feel that this life-saving information will give you control of your health destiny, save you from suffering with pain, and add many quality years to your life. Your subconscious mind hasn't accepted it yet. For many people, the partial knowledge that they have acquired is in conflict with their core beliefs. They are unable to accept it, so their awareness of it dims and, with it, the ability to make the changes.

Psychologists have long observed that we all subconsciously dim awareness to things that raise our anxiety or make us uncomfortable. Our self-deceptions often lead us into absurd situations that are completely obvious to outside observers. Many people blame the media and big business for the current state of the American diet. The truth, however, is that Americans are self-deceived. There is nothing that prohibits us from choosing healthy foods, but contradictions often arise between the subconscious and rational portions of our minds. We are prone to believe what we want to, regardless of the evidence. Our brains are masters at suppressing facts.

Your subconscious might not be comfortable with the changes you are trying to make, but you have to hang in there until the change feels natural. Your taste preferences will change with time. The first step, of course, is getting started. In recognizing your discomfort, you will be able to acknowledge it and move on, so that you move one step closer to taking control of your health.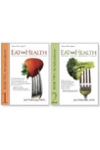 Continue Learning about Eating Habits and Nutrition