Here are some tips for controlling calories and fat when you eat out:
Skip the bread.
Start with a salad.
Read the menu carefully, looking for dishes prepared "broiled," "grilled," "steamed," and "sautéed," rather than "fried," "crispy," or "creamy."
Don't be afraid to ask questions about how a dish is prepared.
Order all sauces and dressings—including salad dressing—on the side.
Request a veggie instead of fries or other high-calorie sides (pay extra if you have to).
More often than not, opt for broiled fish or roasted, broiled, or grilled chicken without skin.
If you know the restaurant serves large portions, split an entrée with a friend or have two appetizers instead of an entrée.
If you're served a huge portion, eat half and take the other half home in a doggie bag for the next day.
If you want dessert, split one with others in your party (the more forks, the better!).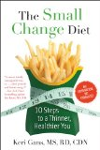 Before heading out to the restaurant, check the restaurant's website for the nutrient information so you have a better idea of how to monitor your caloric intake. Partake in the foods you really enjoy and pass on the foods that aren't on your list of favorites. For example, if you are not a bread eater, pass on the bread basket to save calories for your favorite foods. Ask your wait staff for a doggy bag, some people find it helpful to have the kitchen divide their meal back in the kitchen and place it in a doggy bag even before the meal is served to you at your table. To boost up the vegetable intake, order a salad with the dressing on the side or an extra side order of steamed vegetables. Increasing your vegetable intake will fill you up without adding a lot of calories to your meal.
Continue Learning about Eating Habits and Nutrition