Most food experts feel that unless a particular food treat or craving causes you to indulge uncontrollably, you can include treats in your diet. But it's a good idea to find healthier versions of some of those treats and save truly decadent foods for special occasions.

When buying chips, single serving bags are a good idea, because that already helps with portion control. Try to choose chips that have no more than 140 calories per single serve bag. Total fat should be 6 grams or less, with 1 gram or less of saturated fat and zero trans fat. The amount of sodium (salt) should be no more than 120 mg per serving. Also, look for chips that have at least 2 or 3 grams of fiber per serving, which means there are whole grains in the product. Even with healthier choices, remember to watch portion control.
Continue Learning about Eating Habits and Nutrition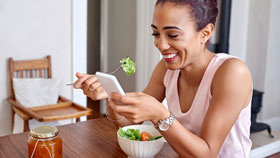 Three meals a day or five? That's only one aspect of the behavior known as eating habits. There is also the matter of style. Do you plan your meals or eat on the run - do you eat when you are happy, sad, or stressed - these are ot...
hers. Recognizing your eating style can help you work to achieve healthier eating habits.
More