Snacking can cause weight gain if we eat when we are not hungry. I tell my clients that it is important to not justify that the snack is "effective" or "nutritious." If we eat when we are bored, hungry or stressed, then our bodies will change in a direction that we are not satisfied with.
Yes, snacking can cause weight gain because you cannot out-train a bad diet. Most people do not realize that you burn about 100 calories a mile so if your snack is even one of those 100-calorie snack packs and your total daily calories exceeded the amount your body needed and you add those snacks throughout the day without exercise, you will gain weight!
All food has calories. If snacks take you over your daily caloric needs you will gain weight. Just a few extra calories a day can lead to being overweight or obese. Mindless snacking while at the computer or grabbing a handful of nuts or candy as you pass a coworkers desk, is a sure way to put on pounds. If you plan healthy snacks as part of your daily calories, you can eat snacks and actually lose weight.
Snacking adds calories to your daily intake unless you are choosing 0 calorie snacks like 0 calorie beverages. If you do not account for the extra calories, you can gain weight. A perfect example is when the 100 calorie snack packs came on the market and consumers were purchasing and eating them, but if you hadn't accounted for those extra 100 calories you were nibbling on every day, you can gain 10 pounds over a year.
If you don't cut out a single calorie through exercise and you add 250 calories a day through more nibbling, you'd rack up an extra 26 pounds a year. Indulging in an extra 100 calories a day without burning them off packs 10 pounds a year onto you. Over time, daily indulgences like a scoop or two of ice cream, an energy bar, or a raid on the cookie or candy jar tips the scales against us.
Continue Learning about Eating Habits and Nutrition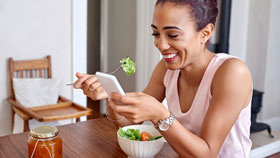 Three meals a day or five? That's only one aspect of the behavior known as eating habits. There is also the matter of style. Do you plan your meals or eat on the run - do you eat when you are happy, sad, or stressed - these are ot...
hers. Recognizing your eating style can help you work to achieve healthier eating habits.
More