Fruit makes a great snack that is packed with nutrients, vitamins and minerals but is low in calories. Here are some fruit snack ideas:
Cut up fruit, berries, or grapes are a great quick to fix snack
A great summer snack is to freeze grapes; when eaten it tastes like a creamy ice cream
Make a trail mix using dried fruits (raisins, plums, cranberries, or apricots) and mix with whole grain cereal and nuts. This trail mix stores well so you can keep a bag in your office desk or in the car.
Spread a nut butter on apples or bananas for a dessert like treat that will keep you full and satisfied
Here are some easy ways to have fruit as a snack:
Buy an extra piece of fruit with your breakfast and save it for your snack.
As with breakfast, add whole fruit to protein-rich plain yogurt for a delicious and filling snack.
If you're pressed for time, buy your fruit already cut up (i.e., pineapple, melon, or strawberries) and enjoy with a serving of nuts.
Every morning, pack a piece of string cheese and a serving of fruit (either whole or sliced) to snack on in the afternoon.
After dinner, snack on one serving of fruit. (Don't worry about adding protein here, since you ideally don't need it to hold you over since it should be close to bedtime.)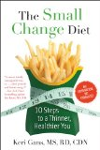 Continue Learning about Eating Habits and Nutrition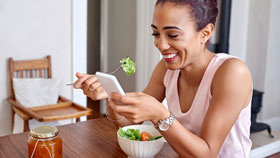 Three meals a day or five? That's only one aspect of the behavior known as eating habits. There is also the matter of style. Do you plan your meals or eat on the run - do you eat when you are happy, sad, or stressed - these are ot...
hers. Recognizing your eating style can help you work to achieve healthier eating habits.
More