You can change the way you are eating today with your next meal. You can start to improve your overall health as easily as buying different food when you go grocery shopping. Here are basic ways to improve your current diet:
Start every day with a piece of fruit; it sets the tone for how you'll eat for the rest of the day.
Make sure you eat fish at least once a week. This can be anything from omega-3 rich salmon to lower fat tilapia, grouper or snapper. Remember that shrimp, crab and lobster have more cholesterol.
Eat more vegetables. Think about a larger portion of vegetables as your side dish rather than always adding a starch like pasta or rice. Try to find ways to eat more vegetables during your routine days. Baby carrots have a little more sugar, but make a great snack and are certainly a better alternative than chips.
Take it easy on the sauces. Sauces tend to add a lot of calories and sodium to otherwise healthy dishes.
Always ask for the sauce on the side when you eat in a restaurant so you can drizzle some on; otherwise your food may be drowning in it.
Eat for your needs and not always your desires. Think of your body as the only car you will ever have to drive. It needs to last a lifetime so respect it, take good care of it, and feed it properly so it can take you all the places you want to go.
Trinity Health is a Catholic health care organization that acts in accordance with the Catholic tradition and does not condone or support all practices covered in this site. In case of emergency call 911. This site is educational and not a substitute for professional medical advice, always seek the advice of a qualified healthcare provider.
Check the following healthy eating recommendations:
Fats and sweets:
Use olive, soy, corn, sunflower, and peanut oils.
Limit saturated fats and avoid trans fats, substituting healthier fats instead.
Limit sweets.
Dairy products:
Eat one to two servings per day of low-fat dairy products, or take a daily calcium and vitamin D supplement.
Meat, poultry, fish, eggs, nuts, and legumes:
Eat one to three servings of nuts and legumes per day.
Eat up to two servings of fish, poultry, or eggs per day.
Choose vegetable sources of protein, such as nuts and beans, more often than animal sources, such as red meat and dairy products.
Vegetables and fruits:
Eat two to three servings of fruit per day.
Eat vegetables in abundance.
Aim for nine servings a day of fruit and vegetables; seek variety.
Bread, cereal, pasta, and rice:
Eat whole grains and whole-grain products liberally.
Limit potatoes and refined carbohydrates such as white bread, white rice, and refined-grain pasta.
Alcohol:
Use in moderation if you enjoy it, as long as you have no health problems or conditions that would dictate otherwise.
Vitamins:
Take a multivitamin daily.
Continue Learning about Eating Habits and Nutrition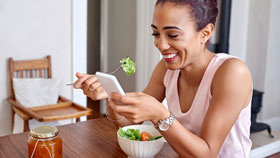 Three meals a day or five? That's only one aspect of the behavior known as eating habits. There is also the matter of style. Do you plan your meals or eat on the run - do you eat when you are happy, sad, or stressed - these are ot...
hers. Recognizing your eating style can help you work to achieve healthier eating habits.
More