I recently heard it takes 21 days to break a habit, so for the next 3 weeks find an alternative activity to do while watching TV instead of eating. Grab a glass of water (infuse it with fruit or herbs for added nutrition), have a mug of hot tea, paint your fingernails/toenails or do a drawing to keep your hands busy, or get down on the floor for some strength training or stretching. One of my favorite things to do while watching TV is to complete 5 different exercises for 5 different words a TV character might say throughout the entire show. Each time the character says the word, I do the exercise assigned to that word! Think: 15 crunches for "music," 10 leg lifts for "song," 5 pushups for "artist," etc. for a show about singing! Fun!
Declare the TV room off limits for food every day. Or work up to that policy by starting with one day per week. Then add another day during each subsequent week. If your kitchen has a TV, switch it off during meals and snacks. When you're hungry, it's much better to sit down at the table with no distractions other than your dining companions. Better still, if the urge to eat comes on while watching a TV show, see if five to 10 minutes of calorie-burning exercise works as a healthy distraction.
Continue Learning about Eating Habits and Nutrition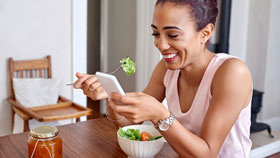 Three meals a day or five? That's only one aspect of the behavior known as eating habits. There is also the matter of style. Do you plan your meals or eat on the run - do you eat when you are happy, sad, or stressed - these are ot...
hers. Recognizing your eating style can help you work to achieve healthier eating habits.
More