Break the habit of meal multitasking. First, power down or move away from the distraction. Find a place away from your desk or TV that is peaceful and free of anything that may take your focus away from your food. These days many busy folks can't find 30 minutes to sit down and focus on a meal. However, 15 minutes is doable and better for you than eating in a distracted state for 30 minutes.
This content originally appeared on
doctoroz.com
Continue Learning about Eating Habits and Nutrition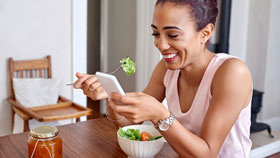 Three meals a day or five? That's only one aspect of the behavior known as eating habits. There is also the matter of style. Do you plan your meals or eat on the run - do you eat when you are happy, sad, or stressed - these are ot...
hers. Recognizing your eating style can help you work to achieve healthier eating habits.
More