Best way to avoid eating junk food at home is not to buy it! Fill your house with fresh produce, healthy oils, legumes, low fat dairy, and lean protein. If you need convenience foods, purchase healthy frozen vegetables and entrees. Take the time to plan ahead. Sit down at a set table. Dine at home rather than eat out or stand at the counter. You have to commit to eating healthfully. Most important is to make the time to shop regularly. On busy days use your crock pot before going to work so you can come home to a healthful hot meal and forgo going through the drive in window!
Your home, like your body, is your temple. It should feel like the safest, happiest place for you to be. And I'm not here to tell you not to eat things, but if you feel you can't have a responsible, smart portion of potato chips or cookies, don't have them in your house. Why set yourself up for failure? Keep your home a safe, supportive place where you feel strong and in control. This can be hard for parents with kids who demand junk food, but I advocate buying things only kids tend to like so you're less likely to sneak some of their snacks. I hear the excuse "It's for the kids" a lot, so I say nip that temptation in the bud.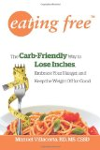 Continue Learning about Eating Habits and Nutrition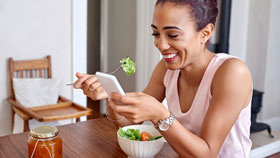 Three meals a day or five? That's only one aspect of the behavior known as eating habits. There is also the matter of style. Do you plan your meals or eat on the run - do you eat when you are happy, sad, or stressed - these are ot...
hers. Recognizing your eating style can help you work to achieve healthier eating habits.
More