Know your portions when you see them! Here's how:
Brown rice, other whole grains, and mashed potatoes should look like half of a baseball.
A whole-grain muffin should like a tennis ball, that's all.
A serving of fruit juice -- think small cup of yogurt.
Fish, chicken, and lean red meats that are 2-3 ounces should resemble a deck of cards.
A serving of raw almonds is 22 nuts but to "eye-proximate" a handful or serving of nuts in general, think about what 1 and a half golf balls look like. That's your mark.
A serving of potato chips (because I know you'll eat them at some point) an ounce (which equals 1 serving) looks like a half of grapefruit. You've got to admit though, a half of ruby red grapefruit, sweet and juicy gives a much bigger bang for your nutrition buck.
serving of low-fat vanilla ice cream (because I know you're going to eat ice cream too) should look like a half of a orange.
A one-ounce serving of cheese looks like a pair of dice.
Vegetable serving sizes vary slightly but not much. A serving of raw leafy veggies is 1 cup while a serving of cooked vegetables is half a cup, not the full plate typically served in many restaurants.
Continue Learning about Eating Habits and Nutrition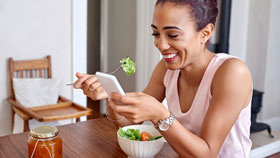 Three meals a day or five? That's only one aspect of the behavior known as eating habits. There is also the matter of style. Do you plan your meals or eat on the run - do you eat when you are happy, sad, or stressed - these are ot...
hers. Recognizing your eating style can help you work to achieve healthier eating habits.
More