There are actually many more healthy packaged food options today than even a few years ago. To keep it simple, take a look at food labels for three things
At least 3 grams of fiber (5g is even better)/serving
Less than 2g saturated (heart unfriendly) fat/serving
Less than 300mg sodium/serving. While sodium does not directly influence fat loss, evidence shows us that too much sodium can increase the risk for high blood pressure, which has a direct impact on heart disease.
I'd also recommend a simple, easy, non-packaged food to round out the meal (piece of fruit, handful of bagged mixed greens w/ dressing; 10 baby carrots or pea pods) so that you are still getting fresh produce with the convenience of packaged food.
The best thing to do with packaged food is to avoid it. Cooking your own food means you have all the control over what and how much goes into it: salt, sugar, fat, etc. However, if you are going to eat packaged foods, look for a few things:
Low sodium
No trans fats
As little saturated fat as possible
100% whole grains
No high fructose corn syrup or other added sugars or syrups.
Here are some guidelines for making healthier eating choices where packaged food is concerned:
Read the labels carefully. If sugar, fat, or salt is one of the first three ingredients listed, it is probably not a good option.
Be aware that certain words appearing on the label, such as sucrose, glucose, maltose, lactose, fructose, corn syrup, white grape juice concentrate, and evaporated cane juice, mean that sugar has been added.
Look not just at the percentage of calories from fat but also the number of grams of fat. For every five grams of fat in a serving, you are eating the equivalent of one teaspoon of fat.
If a snack doesn't provide at least two grams of fiber, it's not a good choice.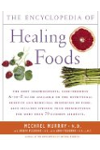 More About this Book
Encyclopedia of Healing Foods
From the bestselling authors of The Encyclopedia of Natural Medicine, the most comprehensive and practical guide available to the nutritional benefits and medicinal properties of virtually everything...
Continue Learning about Eating Habits and Nutrition