Beef does have nutritional benefits. A small portion of lean beef contains ample protein (approximately 28 grams) and iron. Many people do not consume enough iron in their diet, and can be at risk for iron deficiency anemia.

A registered dietitian can help you plan a menu with modest amounts of beef, and provide recipes and meal preparation ideas on how to get the most nutrition from your food.
The health benefits of beef should be considered after deciding what kind of beef you are about to consume. People think beef is beef and it is quite the contrary. Deciding between products from grassfed and grainfed cattle can influence how often you eat beef, how much you consume and what the risks/benefits are to your overall health.

Grainfed beef does contain more calories, higher levels of saturated fat and LDL cholesterol (bad cholesterol) than its grassfed counterpart. More fat equals more calories. So keep in mind, a gram of fat is 9 calories and a gram of protein is only 4 calories when deciding which beef to purchase. Over consumption of grainfed beef can lead to weight gain, higher cholesterol levels it has also been shown to be a risk factor for certain kinds of cancer (rectum and colon cancer) as well as other health maladies.

However, grassfed beef is lower in total calories, lower in LDL cholesterol, and is lower in overall fat, including saturated fat. Although grassfed beef is lower in total fat it is higher in Omega-3 fatty acids (good fat) which can reduce risks of heart disease and plays a role in the function of the cells and systems of the body.

While it may be obvious that grassfed beef is a good source of protein (to support muscles) a 3 ounce serving also offers the benefits of zinc (immune system), phosphorous (teeth and bones), iron (helps carry oxygen in the blood, to all cells and muscles and prevents fatigue) and CLA. In short, research on CLA (conjugated linoleic acid) has shown its positive benefits on metabolism, muscle growth, lowering cholesterol, lowering insulin resistance and also reasearch is ongoing into CLA's postive effects on fighting certain cancers.

Finally, depending on what you read (include this) there are differing views on how beef affects health. Be smart, know what you are eating, where it came from and what it contains. Then enjoy it occasionally in appropriate portions. Like many things you eat, enjoy beef in moderation.
While studies have linked red-meat consumption to heart disease and cancer, it is important to point out that most studies do not separate out quality, focusing instead only on the amount of meat consumed. While overconsumption of meat, especially high-fat, charbroiled, or well-done cuts, is not healthful, lean cuts of organic, grass-fed beef, eaten in moderation, are an excellent source of many nutrients. Lean beef is an excellent source of protein, providing 64.1 percent of the daily value (DV) for protein in just 4 oz. In addition to being a very good source of protein, lean, organic beef is an excellent source of vitamin B12 and a good source of vitamin B6, two key vitamins for proper cellular function. And, contrary to popular belief, lean red meat has no greater effect on blood cholesterol levels than an equivalent amount of lean chicken or turkey.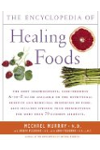 More About this Book
Encyclopedia of Healing Foods
From the bestselling authors of The Encyclopedia of Natural Medicine, the most comprehensive and practical guide available to the nutritional benefits and medicinal properties of virtually everything...
Continue Learning about Eating Habits and Nutrition