Fresh and dried fruit are good sources of fiber, vitamins and minerals. Fruit snacks however are often filled with artificial ingredients and added sugars. They also don't provide fiber. Enjoy fresh and dried fruits as healthy, portable snacks.
A lot of fruit snacks tout that they are made with real fruit juice and provide a full day's worth of other vitamin C and other nutrients. But when it comes down to it, the added sugars and artificial ingredients render any of the potential nutritional benefits moot.

Slim strategy: try fresh or dried fruit

The real thing is your best option. Fresh and dried fruit are both rich in fiber, phytonutrients and cancer-fighting antioxidants. Fruit snacks offer none of this. Aim for five servings of real or dried fruit a day.

Continue Learning about Eating Habits and Nutrition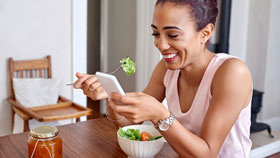 Three meals a day or five? That's only one aspect of the behavior known as eating habits. There is also the matter of style. Do you plan your meals or eat on the run - do you eat when you are happy, sad, or stressed - these are ot...
hers. Recognizing your eating style can help you work to achieve healthier eating habits.
More