Absolutely! Food provides us with nourishment however the act of eating can be a positive and pleasant experience. We eat with our eyes and senses. When we are mindful and take our time to savor food, we maximize the benefits.
Absolutely! In fact it is not okay to not have pleasure eating. Some people eat to live and others live to eat. The key is eating healthy food in reasonable amounts. I relish the times when I dip fresh fruit into melted 70% dark chocolate, but I make sure I don't gorge myself. I also love trying new whole grains like freekeh. In fact, if you get excited about what you're eating, we bet, you'll be more likely to try new things and create tasty combinations that will become your new staples. And maybe you'll even get your friends hooked too!
Certainly! In fact, while we eat for so many different reasons, research shows that taste/pleasure is right up at the top of the list. One of the important components of eating for good health and healthy weight achievement is still having the foods in your diet that you really love and that give you pleasure. If these foods are high in calories or include compounds that are not health promoting, you simply need to make them less frequent choices, in smaller portions, than some of the other foods.
Continue Learning about Eating Habits and Nutrition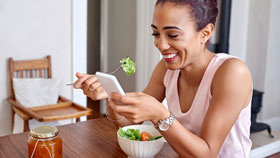 Three meals a day or five? That's only one aspect of the behavior known as eating habits. There is also the matter of style. Do you plan your meals or eat on the run - do you eat when you are happy, sad, or stressed - these are ot...
hers. Recognizing your eating style can help you work to achieve healthier eating habits.
More