This study showed a relationship between sleep duration and snacking in teens:
For each 1-hour increase in sleep duration, the odds of consuming a high amount of calories from snacks decreased by an average of 21%.
A significantly greater proportion of teens who slept less than 8 hours per weeknight consumed food in the early morning between 5 a.m. and 7 a.m.
Specifically, the researchers found that -- after adjusting for factors like age, sex, and race -- teens who slept less than 8 hours on weeknights consumed 2.2% more calories from fats and 3.0% fewer calories from carbs than teens who slept 8 hours or more.
Continue Learning about Eating Habits and Nutrition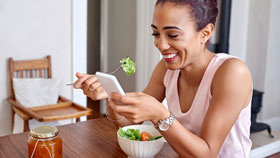 Three meals a day or five? That's only one aspect of the behavior known as eating habits. There is also the matter of style. Do you plan your meals or eat on the run - do you eat when you are happy, sad, or stressed - these are ot...
hers. Recognizing your eating style can help you work to achieve healthier eating habits.
More