We understand the need for certain comfort foods and sugar on occasion; sometimes we give in to environmental cues that have us indulging in foods that provide more consolation than pure energy. By definition, comfort foods make us feel good, can lift a bad mood, and plain and simple be a form of stress relief. So in that regard sugar can be medicine, too! But there's a difference between a food that provides us immediate comfort and one that provides us lasting comfort.

The secret is to combine sugar with other ingredients so it doesn't promote body chaos and send you through swinging highs and lows. If you eat sugar after a meal rich in lean proteins, healthy fats, and complex carbs, or eat sugar alongside these types of hormone-friendly foods, it won't incite such a huge insulin response as it would on its own.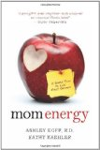 More About this Book
Mom Energy: A Simple Plan to Live Fully Charged
       From celebrated dietitian Ashley Koff and fitness trainer to the stars Kathy Kaehler comes Mom Energy, an exciting new way for moms to tap into their own natural and renewable sources of...
Continue Learning about Eating Habits and Nutrition