Absolutely not! The key to snacking is limitation and choice. Limit yourself to two snacks a day. A mid-morning and a mid-afternoon snack is a great way to keep your glucose at a consistent level. It is also a great way to maintain your hunger to prevent overeating during your breakfast, lunch, and dinner. Choose healthy snacks that will allow you to maintain your healthy lifestyle. Switch the candy, chips, and dessert bars for fruits, vegetables, crackers and cheese. Remember that your snack is not a meal so moderation is the key to success.
Snacking can be a great way to get the nutrients your body needs. Unfortunately, many people confuse treats for snacks. Think about wholesome foods from the different food groups and focus on those for your snacks. For example, low-fat yogurt with fruit or carrot sticks and some hummus. Keeping a food journal can help you identify what food groups are lacking in your diet during the day and those can become the focus for your snacks. A food journal can also help you identify if you are going too long without eating between meals, perhaps making you hungry and leading you to search out snacks. Try not to go longer than 4 hours without eating while you are awake to keep the hunger at bay.
Snacks can provide important nutrients to your diet. However, take a look at the reasons for snacking. Are you hungry? Or are you eating for your emotions? Emotional eating can pack on extra pounds and won't solve any problems. Make the most of your snacks. Small meals and small snacks throughout the day can help you lose weight. Choose healthy snacks such as fruits, vegetables, popcorn, yogurt and nuts. When you are hungry, eat. If you are not hungry, get moving.
You are not alone! Even some fitness trainers, like me, love to snack.
Snacking is fine as long as you are making good, healthy choices and making sure you don't exceed your calorie budget (eating more calories than you are burning in a day.) Snacks can really pack on excess salt, fat and calories if you are not careful. So if you're someone who loves to snack and munch, rather than deprive yourself, think of ways to equip yourself with healthy alternatives.
Here are just a couple of my personal favorites:
I love chips and salsa! So to substitute some of the fat and calories from bagged chips, I simply make my own by slicing a corn or whole wheat tortilla into strips and baking it. If I don't keep chips in the house, and only make one serving of baked chips at a time, I am not tempted to keep eating after I've finished my snack.
Salad and vegis are a great and filling snack. But using salad dressings or dips can sabotage a day's worth of healthy eating. So to substitute I take about a quarter cup of cottage cheese and mix it with just a bit of dry ranch dressing mix. It's low in fat and calories and tastes great. Plus the cottage cheese adds protein! You can also use fat free or low fat sour cream.
Then there's ice cream. I found a great recipe that uses frozen bananas, milk, cinnamon, and a spoonful of vanilla pudding mix to make a creamy frozen dessert that is just as satisfying as ice cream!
Chocolate! But not just any chocolate. It has to be gooey and fudgy and decadent. Warm brownies? Forget about it! So what's a girl to do about this one? Sometimes I really need a brownie fix. So I substitute apple sauce for the oil and really watch my portion sizes. If I make a whole pan, I am done for, so I will make a forth of the box using part of a cupcake pan, rather than making a whole pan and torturing myself with the temptation to over indulge.
These are just a few simple ideas for you snackers. Don't deprive yourselves, there is a wealth of healthy recipes and snack alternatives on the internet. Snack away, just be aware, be smart, watch your portion sizes and be healthy.
Continue Learning about Eating Habits and Nutrition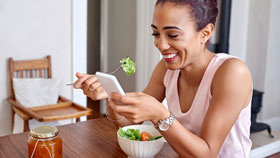 Three meals a day or five? That's only one aspect of the behavior known as eating habits. There is also the matter of style. Do you plan your meals or eat on the run - do you eat when you are happy, sad, or stressed - these are ot...
hers. Recognizing your eating style can help you work to achieve healthier eating habits.
More