Just because you see 100 calories on the package doesn't mean it's a diet food. These snacks can still contain unhealthy ingredients like trans fats, which raise your bad cholesterol levels (LDL) while lowering your good cholesterol levels (HDL), and high fructose corn syrup. Dr. Oz recommends making your own 100-calorie snack bags so you can control your portions.
Continue Learning about Eating Habits and Nutrition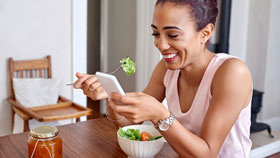 Three meals a day or five? That's only one aspect of the behavior known as eating habits. There is also the matter of style. Do you plan your meals or eat on the run - do you eat when you are happy, sad, or stressed - these are ot...
hers. Recognizing your eating style can help you work to achieve healthier eating habits.
More