Eating disorders arise from a variety of physical, emotional and social issues all of which need to be addressed to help prevent and treat these disorders. Family and friends can help by setting good examples about eating and offering positive comments about healthy eating practices. While eating disorders appear to focus on body image, food and weight, they are often related to many other issues. Referral to health professionals and encouragement to seek treatment is critical as early diagnosis and intervention greatly improve the opportunities for recovery.
There are multiple levels of treatment depending on the intensity and frequency of behaviors. Here are some of the most common ways eating disorders are treated.
Inpatient hospitalization is often needed when people become medically and/or nutritionally compromised. Hospitalization can last anywhere from a few days to several weeks. Sometimes partial hospitalization is recommended by the treatment team.
Residential care can offer patients the opportunity to put into practice behavioral interventions that will need to be implemented throughout the recovery process. Residential facilities can offer ongoing support and a great deal of exposure therapy.
Intensive Outpatient Programs (IOP) allow patients to resume life's responsibilities (i.e. school, job) while spending several hours a few times a week focusing on recovery. Most IOPs encourage patients to have at least one meal during their regular program time in order to continue providing support.
Outpatient care may involve weekly or biweekly appointments with treatment team members such as a therapist and a dietitian. Care at this level may involve a combination of individual sessions, family sessions and group support.
Treatment usually involves a team approach, including doctors, parents, nutritional counseling, and psychological counseling. The therapist ends up serving as a "life coach" or skills builder, helping the person with the eating disorder develop better coping strategies so that he or she doesn't just use the eating disorder as a default coping mechanism ("I'm stressed, I don't eat; I'm stressed, I over exercise"). This ends up being the opposite with binge eating disorder, which can lead to obesity: "I'm stressed, I eat. I'm stressed, I don't want to exercise." Either way, the person needs new and better skills to handle stress.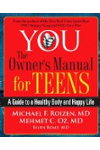 There are a number of different treatment options for eating disorders. The treatment depends on how severe they are and whether there are any coexisting emotional disorders. First, if you have an eating disorder, you will probably have some sort of psychotherapy, whether it is individual, group, cognitive behavioral, or family. Each of these types of therapy focuses on different aspects of your psychological well-being. In addition to therapy, you will need to gain weight until you are at a healthy weight. If you are unable to do this, you may need to be hospitalized until you can get your weight back up. Medications have not been shown to be successful at treating eating disorders, but they can be helpful if you have underlying depression or anxiety. You and your doctor should discuss the various types of treatment and which might be right for you.
Psychiatrist and eating disorder specialist Dr. Michael Pertschuk discusses the treatment options for eating disorders. Watch Dr. Pertschuk''s video for tips and information on eating behaviors.
Depending on the severity of your disordered eating behaviors, there are various treatment options:
Inpatient treatment programs offer 24/7 support and medical monitoring and are designed for those whose eating disordered behaviors have led to extremely low body weight and/or serious medical complications.
Residential treatment programs also offer 24-hour observation and support, but individuals in residential eating disorders treatment do not require the same level of medical and psychiatric supervision as is available at the inpatient level of care.
Partial hospitalization programs are daytime treatment programs that allow people in treatment to practice recovery skills with guidance during the day and on their own in the evenings and at night.
Outpatient programs offer individuals struggling with eating disorders the opportunity to "step down" from a higher level of care while maintaining their daily activities. These types of programs provide additional support for anyone struggling with self-esteem or body image issues.
Not surprisingly, relapses are common. Lasting eating disorders recovery often comes only after engaging in multiple treatment approaches. You may find it most effective to work with a multidisciplinary treatment team. This team of dietitians, psychotherapists and physicians may use a variety of treatment methods, including:
psychological counseling or cognitive-behavioral therapy to help you replace negative attitudes about your body with healthier, more realistic ones
medical evaluations to stabilize you physically
nutritional counseling to teach you good nutritional habits
medications, such as antidepressants, to address coexisting conditions
family therapy to establish the support system you need for lasting recovery
Continue Learning about Eating Disorder Treatment