The Meatless Monday campaign is a project of the Johns Hopkins Bloomberg School of Public Health and the Columbia University School of Public Health, in association with twenty-seven other public health schools. The campaign is focused on convincing the world not to eat chickens, pigs, and other animals -- just one day per week (on Mondays, as you may have guessed).

Since it's sponsored by a slew of public health schools, the campaign was set up to promote health, and since I've already written extensively about the fact that eating meat leads to heart disease, cancer, diabetes, obesity, and lethargy, I'll skip extended analysis of these facts, other than to say: When Johns Hopkins, Columbia, the American Dietetic Association, and dozens of other health organizations argue that the less meat you eat, the better off you'll be, it's worth listening to them.
Continue Learning about Eating and Society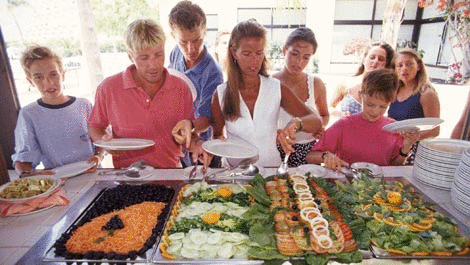 Many Americans are overweight due to a diet filled with high-calorie convenience foods, lack of exercise, large portion sizes and long work hours. The average diet is high in sugar and saturated fat. Many processed foods also have ...
high sodium content. But many of us don't know how to eat healthy. What are some ways in which food production affects our health? Should we learn how food is prepared from other cultures? Learn more about how you can adopt healthy eating habits with expert advice from Sharecare.
More