The hypothesis that food additives can cause hyperactivity in children stemmed from the research of Benjamin Feingold, M.D., and is commonly referred to as the "Feingold hypothesis." According to Feingold, many hyperactive children, perhaps 40 to 50 percent, are sensitive to artificial food colors, flavors, and preservatives as well as to naturally occurring salicylates and phenolic compounds.

Feingold's claims were based on his experience with more than 1,200 cases in which food additives were linked to learning and behavior disorders. Since Feingold's presentation to the American Medical Association in 1973, the role of food additives as a contributing cause of hyperactivity has been hotly debated in the scientific literature. In actuality, however, researchers have focused on only 10 food dyes versus the 3,000 food additives with which Feingold was concerned. At first glance, it appears that the majority of the double-blind studies designed to test this hypothesis have shown essentially negative results. However, upon closer examination of these studies and further investigation into their literature, it becomes evident that food additives do, in fact, play a major role in hyperactivity. In several of the studies, overwhelming evidence was produced. It is interesting to note that, while the U.S. studies have been largely negative, the reports from Australia and Canada have been more supportive. Feingold contended that there is a conflict of interest on the part of the Nutrition Foundation, an organization supported by major food manufacturers, such as Coca-Cola, Nabisco, and General Foods. It appears significant that the Nutrition Foundation has financed most of the negative studies. Feingold contends that the conflict of interest arises because these companies would suffer economically if food additives were found to be harmful. Other countries have significantly restricted the use of artificial food additives because of possible harmful effects discovered in studies conducted outside the U.S.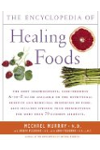 More About this Book
Encyclopedia of Healing Foods
From the bestselling authors of The Encyclopedia of Natural Medicine, the most comprehensive and practical guide available to the nutritional benefits and medicinal properties of virtually everything...
Continue Learning about Eating and Society