Many restaurants feature foods with Latin American flavor. Keep in mind that favorites like crispy taco shells, taco salads, nachos, guacamole and chips and salsa are tasty but can be high in fat.
The staples -- tortillas, beans and rice -- are great sources of carbohydrates, while pinto and black beans supply fiber. Latin American cuisine also offers you a chance to include different types of vegetables and grain foods, and to explore new flavors.
Try Latin American creations that are full of flavor without all the calories:
Fajitas, enchiladas, burritos or tamales
Soft tacos with chicken, beef or beans
Tortilla soup
Chile verde
Red or black beans and rice
Arroz con pollo (chicken with rice)
Veracruz-style seafood dishes
Flan or fruit for dessert
Continue Learning about Eating and Society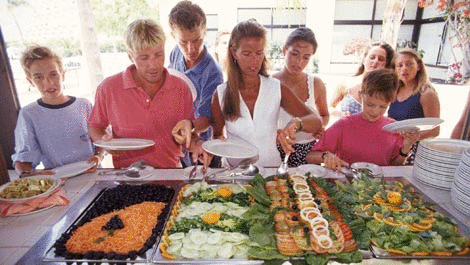 Many Americans are overweight due to a diet filled with high-calorie convenience foods, lack of exercise, large portion sizes and long work hours. The average diet is high in sugar and saturated fat. Many processed foods also have ...
high sodium content. But many of us don't know how to eat healthy. What are some ways in which food production affects our health? Should we learn how food is prepared from other cultures? Learn more about how you can adopt healthy eating habits with expert advice from Sharecare.
More