Vietnamese restaurants offer a blend of unique flavors and many options for the health-minded diner. Try these healthier options next time you venture out:
Canh chua tom (spicy & sour shrimp soup)
Goi cuon (fresh spring rolls) instead of the fried ones Cha gio
Bo xa lui nuong (grilled beef with lemongrass and vegetables)
Ca hap or Ca kho to (steamed fish dishes)
Rau muong xao toi (be sure to ask the chef to go easy on the oil in these sauteed greens)
Lychee (a tropical fruit)
Trying out new cuisines can be a fun way to get to know different cultures. Take this list with you to ensure you stick to your health goals along the way.
Continue Learning about Eating and Society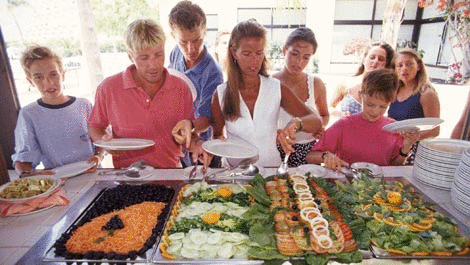 Many Americans are overweight due to a diet filled with high-calorie convenience foods, lack of exercise, large portion sizes and long work hours. The average diet is high in sugar and saturated fat. Many processed foods also have ...
high sodium content. But many of us don't know how to eat healthy. What are some ways in which food production affects our health? Should we learn how food is prepared from other cultures? Learn more about how you can adopt healthy eating habits with expert advice from Sharecare.
More