Japanese cuisine offers many healthy options. Rice, fish and vegetables are the core foods and are featured at almost every meal. Portions are typically small and beautifully presented.
Keep these tips in mind next time you go out for Japanese food:
Always order a variety of steamed vegetables for the table.
Try a traditional salad of sea vegetables.
Choose grilled shrimp or fish prepared with light ginger broth or dishes like yosenabe (seafood and vegetables in broth).
When it comes to meat, choose broiled or grilled chicken or beef teriyaki, sukiyaki or yakitori.
Request that high sodium sauces be served on the side.
Use soy sauce sparingly.
Skip the deep fried foods like shrimp tempura or tonkatsu (fried pork cutlet).
Continue Learning about Eating and Society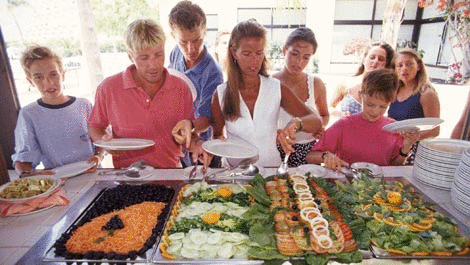 Many Americans are overweight due to a diet filled with high-calorie convenience foods, lack of exercise, large portion sizes and long work hours. The average diet is high in sugar and saturated fat. Many processed foods also have ...
high sodium content. But many of us don't know how to eat healthy. What are some ways in which food production affects our health? Should we learn how food is prepared from other cultures? Learn more about how you can adopt healthy eating habits with expert advice from Sharecare.
More