Tempted to indulge in the local cuisine? Food can be the best or the worst part of your international trip. In developing countries, eat only food that has been fully cooked and served hot. Avoid eating fresh vegetables and fruits, unless you can peel them yourself. Drink only bottled, sealed beverages, and steer clear of ice -- it was probably made with tap water.

The presence of the CDC logo and CDC content on this page should not be construed to imply endorsement by the US Government of any commercial products or services, or to replace the advice of a medical professional. The mark "CDC" is licensed under authority of the PHS.
Continue Learning about Eating and Society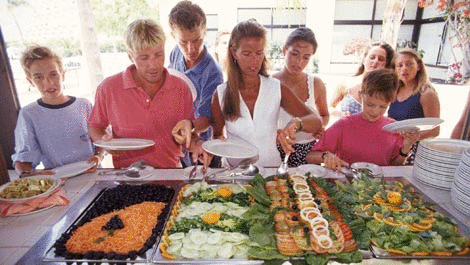 Many Americans are overweight due to a diet filled with high-calorie convenience foods, lack of exercise, large portion sizes and long work hours. The average diet is high in sugar and saturated fat. Many processed foods also have ...
high sodium content. But many of us don't know how to eat healthy. What are some ways in which food production affects our health? Should we learn how food is prepared from other cultures? Learn more about how you can adopt healthy eating habits with expert advice from Sharecare.
More