In an Italian restaurant, ask for oil and vinegar on the side to dress your own salad. Order pasta with red sauce, such as marinara instead of creamy white or butter sauces like Alfredo. Choose chicken or fish dishes instead of sausage dishes. In a Chinese restaurant choose steamed brown rice instead of fried rice, steamed dumplings instead of fried, and vegetarian entrées that include a number of different vegetables. In a Japanese restaurant pass up tempura in any form because fried food should be avoided. In a Mexican restaurant choose salsa instead of guacamole, sour cream or cheese dips. Choose dishes made with plain, soft tortillas that aren't fried, such as burritos, soft tacos and enchiladas. Have black bean soup as a first course.
Continue Learning about Eating and Society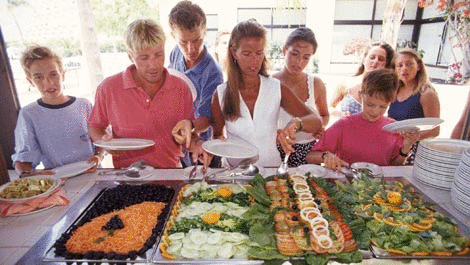 Many Americans are overweight due to a diet filled with high-calorie convenience foods, lack of exercise, large portion sizes and long work hours. The average diet is high in sugar and saturated fat. Many processed foods also have ...
high sodium content. But many of us don't know how to eat healthy. What are some ways in which food production affects our health? Should we learn how food is prepared from other cultures? Learn more about how you can adopt healthy eating habits with expert advice from Sharecare.
More