School foodservice is hopefully going to see a healthy Federal overhaul. By and large, what we see in schools today is not incredibly healthy from how food is sourced to how it is prepared and served. But if you know how to navigate a healthy diet then you may be able to find some decent choices. There are many schools nationwide who have taken steps to improve what they are doing. A wonderful program to look into is Wellness in the Schools as they are prompting change at schools nationwide. Never forget that you have a choice.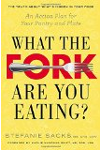 More About this Book
What the Fork Are You Eating?: An Action Plan for Your Pantry and Plate
It's labeled "natural," "grass-fed," or "free-roaming;" yet it might be anything but. It's time to find out what you're actually eating... When your groceries are labeled "low-fat," "sugar-free," and even "natural" and "antibiotic-free," it's easy to assume that you're making healthy choices. Yet even some of those seemingly wholesome offerings contain chemical preservatives, pesticides, and artificial flavors and coloring that negatively affect your health. In What the Fork Are You Eating?, a practical guide written by certified chef and nutritionist Stefanie Sacks, MS, CNS, CDN, we learn exactly what the most offensive ingredients in our food are and how we can remove (or at least minimize) them in our diets. Sacks gives us an aisle-by-aisle rundown of how to shop for healthier items and create simple, nutritious, and delicious meals, including fifty original recipes.  
It depends.
Are there whole foods available? Fresh whole fruit, baked potatoes in the skin, baby carrots, fresh whole strawberries, fresh grapes are good examples.
Does the cafeteria serve a whole wheat bread that is tasty, fresh and with a hearty texture?
Do the cooks prepare grainy muffins from scratch?
Does the salad bar contain fresh colorful vegetables and fruit without added dressing?
Is unflavored skim milk a beverage of choice and is it served cold?
Do the cooks prepare the entrees themselves from scratch or are they buying frozen prepared entrees and simply heating them?
The more of these questions you can answer "yes" the better your cafeteria staff is doing. If you answer no to these questions, try contacting the school wellness council for assistance.
Continue Learning about Eating and Society