There's a simple but surprising way to eat healthy in an Italian restaurant, weight-loss expert Jim Karas tells Dr. Oz. Watch this video to hear his tips for ordering -- and get the lowdown on a popular dip that can kill your diet before your entree even arrives.
Healthy choices at an Italian restaurant include soup, steamed fish and vegetables -- and avoiding huge pasta portions and the bread basket! Watch "Hungry Girl" author Lisa Lillien give her tips for staying on track while eating Italian food out.
I tell all of my clients to be prepared before going out to eat.
All of my clients log their food and know the parameters of the their diet and what they can and can't do. So before going out to eat they know they have "x" calories left in the day.
So how do they stay within their calories when they eat out?
If the restaurant has a website, visit it before and the nutritional content and look at what they can eat and stick within the parameters of the diet. Then when they go out to eat if the parameters are already predetermined then they know what they can and cannot eat.
Option two is to pre log the food in their food log and if the restaurant is small, use the food log to estimate calories as good as possible.
If you do not know the menu but just go out to eat, make the best choices possible and then after the meal when you get home, research what you just ate, figure out and estimate how many calories you consumed and log your food in your food log. You may have a time or two when you go over your calories but you will be more educated and aware so in the future you can make better choices.
Pasta is probably the first thing that comes to mind when you think about Italian food. Pasta itself is not unhealthy -- it's the large portions, high fat cream sauces and fried dishes that add all of the saturated fat and calories. Here are some tips to keep it healthy next time you go out for Italian food:
Opt for a vegetable salad or broth based soup as an appetizer instead of the fried calamari or pasta starter.
If the restaurant serves large entrees or if you just have to have dessert, split it with your dinner companion.
If you order a pizza, ask the chef to go light on the cheese and heavy on the veggies. Spinach, mushrooms and roasted red peppers all make great pizza toppers.
For dessert, opt for the Italian ice, sorbet or fresh fruit if it's available.
Order: Sauteed vegetables, salad, seafood salad, fish with olive oil, whole wheat pasta in small amounts with marinara sauce.

Avoid: Fried calamari and zucchini, stuffed mushrooms, baked ziti, fettucini alfredo, anything with bread crumbs, pizza with meat toppings and lots of cheese.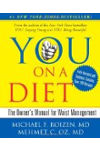 Continue Learning about Eating and Society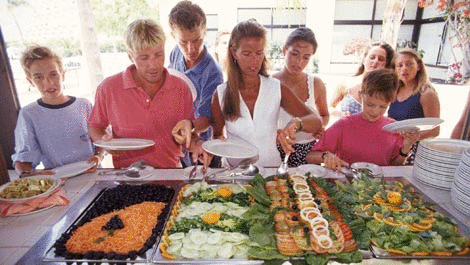 Many Americans are overweight due to a diet filled with high-calorie convenience foods, lack of exercise, large portion sizes and long work hours. The average diet is high in sugar and saturated fat. Many processed foods also have ...
high sodium content. But many of us don't know how to eat healthy. What are some ways in which food production affects our health? Should we learn how food is prepared from other cultures? Learn more about how you can adopt healthy eating habits with expert advice from Sharecare.
More