Eating out is a part of many of our lives. Often, it can be a saboteur of weight loss and health efforts; however, it does not need to derail you completely. Learning to navigate restaurants by making "better bad food choices" can bring you significantly closer to your goals and allow you to live a "Real World" fitness lifestyle.
Restaurant Strategies
Be assertive. Do not be shy. Ask the waiter if a dish can be slightly adjusted. Restaurants rely on customer satisfaction and will go to great lengths to ensure that you get what you want. This can also be done with the sides. Sides from one entrée can often be substituted with sides from a different entrée. If it comes with mashed potatoes, ask for a side of veggies instead.
Ask for double vegetables instead of rice or mashed potatoes. Make sure the veggies are steamed.
Order from the "healthy, lite or low fat" entrées on the menu. Most chains will even list the calories and nutritional content of such foods. Check the on-line menu before visiting the restaurant.
If you are a member of the "Clean your plate club" You could ask the server to wrap up half the entrée before they bring it out. "Pre Doggie bag."
Check the menu before you leave home. Today most restaurants especially chain restaurants have websites with their menu options. If there is nothing you feel that can be easily altered, you can decide to go to a different restaurant.
Stick to the "2/6 rule". This means that you choose 2 courses to consume instead of a potential 5 or 6 offered at a typical restaurant. The courses include: Drink, Bread (and butter), Salad, Appetizer, Entree, and Dessert. You will save an incredible amount of calories.
To your health,
-Robert
Order: Salad with oil and vinegar, veggie burger, grilled chicken, any boiled and seasoned or sautéed with onions and garlic vegetables; baked potato with marinara sauce.

Avoid: Hamburger, grilled cheese, fries, anything that has "fried" in the name.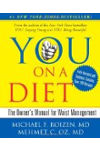 Continue Learning about Eating and Society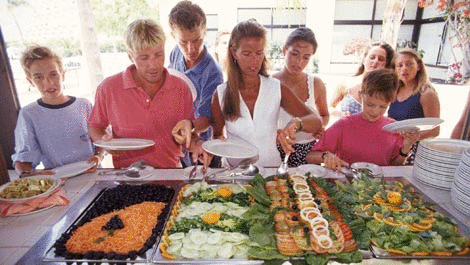 Many Americans are overweight due to a diet filled with high-calorie convenience foods, lack of exercise, large portion sizes and long work hours. The average diet is high in sugar and saturated fat. Many processed foods also have ...
high sodium content. But many of us don't know how to eat healthy. What are some ways in which food production affects our health? Should we learn how food is prepared from other cultures? Learn more about how you can adopt healthy eating habits with expert advice from Sharecare.
More