The modern diet of mass-produced food, fast food, and high sugars is relatively new. Our ancestors only had access to honey, eating only 2 kg of sugar per year; in 1815 England the average consumption of sugar was 8 kg per person. Mass production of fructose became economical in the 1970s, and by the year 2000, the average consumption of sugar per person was 69.1 kg per year.

The human body is remarkably good at storing excess nutrients in the form of fat. The rapid change in diet has not allowed our bodies time to adapt. Hence, the very high rates of obesity, diabetes, and cardiac disease. Adapting to anything usually occurs over multiple generations through natural selection.
Continue Learning about Eating and Society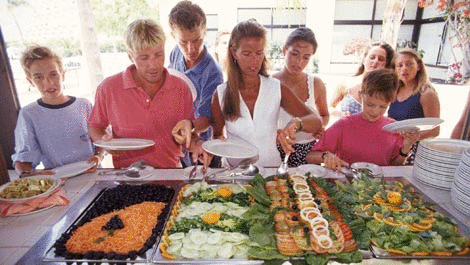 Many Americans are overweight due to a diet filled with high-calorie convenience foods, lack of exercise, large portion sizes and long work hours. The average diet is high in sugar and saturated fat. Many processed foods also have ...
high sodium content. But many of us don't know how to eat healthy. What are some ways in which food production affects our health? Should we learn how food is prepared from other cultures? Learn more about how you can adopt healthy eating habits with expert advice from Sharecare.
More