During the twentieth century, food consumption patterns changed dramatically. Total dietary fat intake increased from 32 percent of calories in 1909 to 43 percent by the end of the century; carbohydrate intake dropped from 57 percent to 46 percent; and protein intake has remained fairly stable at about 11 percent.

Compounding these detrimental changes are the individual food choices accounting for the changes. There were significant increases in the consumption of meat, fats and oils, and sugars and sweeteners in conjunction with a decreased consumption of non-citrus fruits, vegetables, and whole-grain products. But the biggest change in the last hundred years of human nutrition was the switch from a diet with a high level of complex carbohydrates, as found naturally occurring in grains and vegetables, to a tremendous and dramatic increase in the number of calories consumed in the form of simple sugars. Currently, more than half of the carbohydrates being consumed are in the form of sugars such as sucrose (table sugar) and corn syrup, which are added to foods as sweetening agents. High consumption of refined sugars is linked to many chronic diseases, including obesity, diabetes, heart disease, and cancer.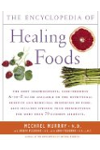 More About this Book
Encyclopedia of Healing Foods
From the bestselling authors of The Encyclopedia of Natural Medicine, the most comprehensive and practical guide available to the nutritional benefits and medicinal properties of virtually everything...
Continue Learning about Eating and Society