Some findings suggest that foods high in vitamin C, in combination with 500 milligrams of vitamin C supplements each day, may reduce your risk of cataracts. Scientists at the University of California, San Francisco have found that women who had higher levels of vitamin C were less likely to suffer gallbladder disease. And lycopene, found in tomatoes, red grapefruit, watermelon, and guava, is a carotenoid that has been linked with lower rates of cancer.

Carrots, dangled invitingly in front of us because they are believed to help to ward off certain eye diseases, also contain ingredients that protect against heart disease and some cancers. Onions contain compounds that lower cholesterol and prevent hardening of the arteries. Macadamia nuts are effective at lowering LDL (bad) cholesterol. Caviar -- which contains the all-important omega-3 fatty acids already known to protect against heart disease -- also provides protection against menstrual cramps and bipolar depression.

And by color-coding food -- decreasing brown foods and adding green ones -- women can fight off fibroids, the very common uterine growths that cause pelvic pain, infertility, and anemia in about 40% of 40-year-old women. Add reds, purples, oranges, yellows, and greens to replace brown and beige foods, and add years to your life.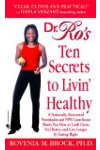 More About this Book
Dr. Ro's Ten Secrets to Livin' Healthy
In this one-of-a-kind book, Dr. Rovenia M. Brock—known as Dr. Ro™ to fans of Black Entertainment Television's Heart & Soul—reveals practical, satisfying ways for African American women to eat...
Continue Learning about Eating & Nutrition For Diseases