Like any plumbing system, your arteries can get clogged up. When you have high blood pressure, inflammation causes cholesterol to stick to the walls of your blood vessels, forming a plaque. The following foods are powerful enough to prevent this dangerous clogging.
Kiwi and Cantaloupe: These antioxidant-rich foods work by reducing toxic LDL cholesterol, which is formed by a rusting process in your arteries. They can help stop the "rust" in its tracks and even prevent it from spreading. Eat 1 cup of cantaloupe or 1 kiwi a day to unclog your arteries.
Shrimp: Despite being a source of cholesterol, shrimp can be helpful for your heart. They contain taurine, an amino acid, which acts like plastic wrap so fats can't cross the intestinal wall and get into your arteries. Try having 5 medium-sized steamed or grilled shrimp twice a week. Be sure to avoid the cocktail sauces.
Red-Skinned Grapes and Cranberry Juice: These foods strain the fat out your arteries. Instead of having fat build up in your blood vessels, these foods improve your cells' ability to absorb the fat and use it for energy production. Drink a glass of cranberry juice three times a week or eat 1 cup of grapes per day to unclog your arteries.
This content originally appeared on
doctoroz.com
Continue Learning about Eating & Nutrition For Diseases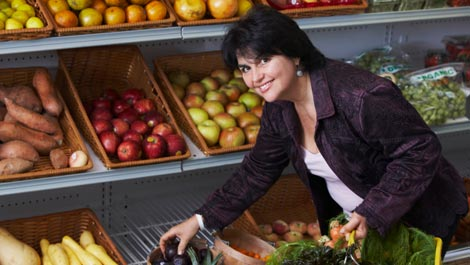 Foods that you consume can be beneficial or detrimental to your health, especially, if you are fighting cancer, living with diabetes or managing pain. Nutrition is essential to your health if you are undergoing cancer treatment. A...
nimal fats, carbohydrates, sugar can all have an impact on pain, inflammation and diabetes.
More