Here's one of my favorite lunches that will keep you satisfied til dinner and keep your energy up so you can avoid the dreaded afternoon slump. Eating foods like this salad with plant protein and nutrient-dense carbohydrates will keep your blood sugar and insulin steady and prevent a rise in cortisol that may result from skipping a meal, eating a meal high in sugar, or eating a large meal with less-desirable carbohydrates like white pasta or white bread.

Plant Power Salad in a Jar

For Lemon Vinaigrette:
¼ cup lemon juice
½ cup olive oil
½ teaspoon sea salt
¼ teaspoon black pepper
For Salad:
½ cup broccoli florets, chopped
½ cup carrots, grated
¼ cup edamame, cooked
1 small apple, chopped
2 tablespoons dried cranberries
2 tablespoons hemp seeds
2 tablespoons walnuts, chopped
1 cup spinach, chopped
1 cup romaine, chopped

1.Whisk all vinaigrette ingredients together. Pour 3 tablespoons into the bottom of quart jar.
2.Layer ingredients into jar in order listed.
3.Secure lid onto jar. Store for up to 5 days in refrigerator.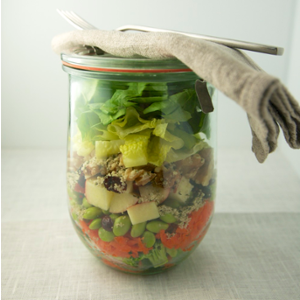 What you eat can turn up your fat-burning hormones to keep you satisfied longer -- or raise the levels of other hormones that make you want to keep eating. In this video, naturopathic doctor Dr. Natasha Turner explains the foods to eat if you want your hormones on your side.
Continue Learning about Eating & Nutrition For Diseases