A cancer-healthy diet includes lots of fruits and vegetables, whole grains and protein from non-red meat sources. In this video, cancer researcher Kate Wolin, ScD, discusses her favorite cancer-fighting foods, as well as organic food options.
When you are faced with a cancer diagnosis, nutrition can be an important part of your healing journey. Eating a well-balanced diet before, during and after cancer treatment can help you feel better, maintain your strength and speed your recovery. Be sure to include:
Protein-rich foods, such as lean meats (chicken, fish or turkey), eggs, low-fat dairy products such as milk, yogurt and cheese or dairy substitutes, nuts and nut butters, beans and soy foods
Whole-grain foods including oatmeal, whole-wheat breads, brown rice and whole-grain pastas
A variety of colorful fruits and vegetables (a minimum of five servings a day)
Healthy fats, such as avocado and olive oil
Be sure to limit sweets and added sugars. Foods high in added sugars, like desserts and sweets, provide little nutritional benefit and often take the place of other foods that are better for you.
Most importantly, know that your cancer journey is unique to you and your treatment. You may experience side effects that affect your ability to follow these suggestions. If you are struggling with any side effects, such as loss of appetite, nausea, diarrhea, vomiting or any other nutrition concerns, your needs may be different.
Eat your veggies -- they help fight cancer! This may seem like a far-out claim, but some vegetables are thought to play a role in preventing the big C. In this video, registered dietitian Samantha Heller explains which greens will help kick cancer to the curb.
Some of the most powerful cancer-fighting agents aren't in the drug store but in your local supermarket. In this video, nutritionist Dr. Will Clower shows Dr. Oz the three kinds of food you should eat regularly to reduce your risk of cancer.
Continue Learning about Eating & Nutrition For Diseases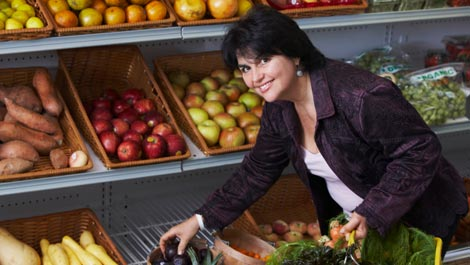 Foods that you consume can be beneficial or detrimental to your health, especially, if you are fighting cancer, living with diabetes or managing pain. Nutrition is essential to your health if you are undergoing cancer treatment. A...
nimal fats, carbohydrates, sugar can all have an impact on pain, inflammation and diabetes.
More