Counting grams of carbohydrates is a bit more work than counting carbohydrate choices, but in the long run, will give you more flexibility in your meals and activities and help you better manage your blood glucose. So how do you figure out how many carbohydrates are in foods? The easiest way is to examine the food label. Food labels should contain a line that lists the total carbohydrate grams and percent of daily value. You'll also want to take into account the serving size.
Counting carbohydrates opens up a world of possible foods choices for people with diabetes. Food labels list the total carb amounts for the serving size which means that measuring out the portion is important to get an accurate carb count. If the label states that the bag of crackers contains 2 servings but each serving is 10 crackers then the amount of carbohydrates listed on the label is only for the 10 crackers not the entire bag. There are also handy pocket size books that are available in local bookstores and online that list carb amounts for common foods. There are also websites that can help you to count carbohydrates and give worksheets to use.
For carbohydrate intake, someone with diabetes should dump white potatoes (baked is no better than fried in this case) and processed foods like white flour, white rice, and white bread. Instead, think about texture and color. Opt for a baked sweet potato with a little cinnamon or a bowl of brown rice. These have the bulk to satisfy your hunger in a healthy way.
Here is a "white-but-alright" alternative to mashed potatoes: Try mashed cauliflower with a little bit of milk, garlic, and chives.
This content originally appeared on doctoroz.com.
Carbs effect blood sugars. Too many and the blood sugar goes up, too few and it could drop too low. The key is to find the right balance for you. A good place to start is 45 grams of carbs at each meal for women and 60 grams per meal for men. Consider seeing a registered dietitian or certified diabetes educator to find the carb amount that is right for you. In reality white potato, white bread and white rice is going to break down to glucose or blood sugar just as sweet potato, whole grain bread, and brown rice would. The difference is that the later has more fiber which can keep blood sugars from spiking and also keep us more full and satisfied. Truthfully there really isn't any food someone with diabetes cannot have as long as they measure the food and it fits within their carb allowance. Portion size makes a big difference.
Continue Learning about Eating & Nutrition For Diseases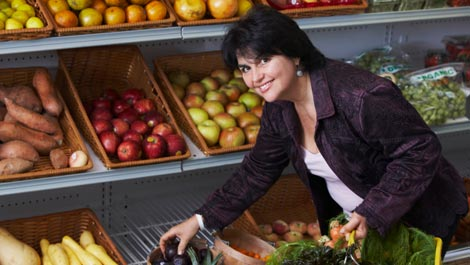 Foods that you consume can be beneficial or detrimental to your health, especially, if you are fighting cancer, living with diabetes or managing pain. Nutrition is essential to your health if you are undergoing cancer treatment. A...
nimal fats, carbohydrates, sugar can all have an impact on pain, inflammation and diabetes.
More