The FODMAPS elimination diet is based on limiting "FODMAPS" in the diet. FODMAPS stands for Fermentable Oligo-, Di- and Mono-saccharides And Polyols. Specifically, some of the dietary carbohydrates described by the term FODMAPS are lactose, fructose, fructans, polyols and galactans. These are sugars, starches and fibers in food that some people cannot fully digest and absorb.

Foods consist of many components, not just the carbohydrates that FODMAPS elimination diet focuses on. There may be foods on the "allowed" lists, or foods that are on the "challenge" lists that you should not eat because you are allergic to the protein component of the foods. Before embarking on the diet, take out a pen and cross out any foods to which you are allergic. If you have a diagnosed allergy to any food, you should never add it back to your diet and you should never challenge yourself with the food without medical supervision.

There may be foods that you aren't actually allergic to, but which have caused discomfort for you in the past. For example, corn and lettuce do not contain large amounts of FODMAPS, so they are "allowed" foods on the diet. They do, however, contain a lot of insoluble fiber, and many of my clients report these foods are poorly digested, even visible and unchanged in their stool. While this could be remedied somewhat by thorough and careful chewing of each mouthful of food, feel free to avoid items on the food lists that cause you distress for any reason. You always can try adding them back at another time to test your tolerance.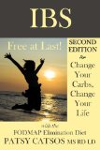 FODMAPS stands for Fermentable Oligo-, Di- and Mono-saccharides And Polyols. These are sugars, & starches, & fibers that certain people have problems digesting completely.

FODMAP has been found to be useful in people with chronic abdominal pain. Most scientific studies have come out of Australia, but are increasing in popularity here in the US.

It is important to note, that if you have multiple food allergies, you go through the "allowed foods" and cross those off you are allergic too. The next step would be to consult with your physician and registered dietitian. Although the diet has been found to be helpful, if too many restrictions are needed, one could end up nutrient deficient, so it's best to make sure someone is checking your progress and monitoring vitamin & mineral levels as medically appropriate.
Continue Learning about Eating & Nutrition For Diseases