To reduce pain and inflammation, be sure to eliminate or at least eat less of the following foods:
Animal protein such as red meat, butter, and whole milk because they contain arachidonic acid, a fatty acid that is converted to pro-inflammatory chemicals in the body that trigger pain.
Foods cooked at high temperatures, including snack foods, French fries, packaged crackers, and chips. Fried foods are also high in the unhealthy trans fats, which come from adding hydrogen to vegetable oil through a process called hydrogenation. You can check the package's nutritional facts to see if a food has trans fats. Because of the greater awareness of the danger of trans fats, some manufacturers put "trans fat free" on packages of foods that do not contain these unhealthy fats; however, be aware that these foods may still contain high levels of sugar, salt, or processed starches.
Snack foods that contain sugar and processed starches. The inflammatory process is triggered by surges of insulin, which increases the risk of obesity and pro-inflammatory chemicals in the body. Studies show excessive consumption of sugars and starchy carbohydrates (white bread, white flour, potatoes) can trigger spikes of insulin in the body, worsening inflammation in the body. Always review the nutrition facts on a product to check for added sugars. You can also read the ingredients and check for such terms as "corn syrup" and "high fructose corn syrup," which indicate added sugar. Remember that honey, molasses, and glucose, dextrose, and fructose are all sugars.
Foods that trigger allergic reactions (if you have problems with these foods), which may include corn, eggs, beef, seafood, yeast, soy, and dairy products. Aside from making you feel bad from the reaction itself, subjecting your body to these foods places extra stress upon your immune system. Your goal is to eliminate stress.
Nightshade plants such as potatoes, tomatoes, peppers, and eggplant, which are thought to worsen inflammation, if these foods bother you.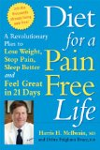 Continue Learning about Eating & Nutrition For Diseases