The evidence supporting diet's role in chronic degenerative diseases is substantial. There are two basic facts linking the diet-disease connection:
A diet rich in plant foods is protective against many diseases that are extremely common in Western society.
A diet providing a low intake of plant foods is a causative factor in the development of these diseases and provides conditions under which other causative factors became more active.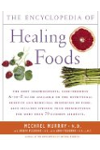 More About this Book
Encyclopedia of Healing Foods
From the bestselling authors of The Encyclopedia of Natural Medicine, the most comprehensive and practical guide available to the nutritional benefits and medicinal properties of virtually everything...
The healthier a person is, the healthier their spine will be. Since there is no direct blood supply to the central portion of the disc, the nutrition and oxygen that is critical for the disc to maintain it's normal function can be compromised if the patient is unhealthy or these nutrients are disrupted or decreased. The healthier a person is, the more nutrition is delivered to their disc which is essential for it to continue to function.
Continue Learning about Eating & Nutrition For Diseases