Early menopause is when a woman has her last menstrual period before age 45 years. This early cessation of estrogen production has been shown to increase risk of health conditions such as osteoporosis and heart disease. Women with early menopause benefit from taking estrogen and progesterone in the form of birth control or menopause hormone therapy at least until the median age of menopause, which is 51 years.
While there is no cure for early menopause, treatments for early menopause can help relieve your symptoms and may include hormone therapy and dietary supplements. Low levels of estrogen in women undergoing early menopause can lead to hot flashes and vaginal dryness, and estrogen supplements (plus a progestin in women who haven't had a hysterectomy) can help these symptoms. Dietary supplements containing vitamin D and calcium can lower your risk of osteoporosis.
These treatments will not return fertility, however, so if you wish to become pregnant, in vitro fertilization may help. In this process, the doctor fertilizes several eggs with sperm from your partner and implants the embryos into your uterus. Eggs may come from a healthy donor if you cannot provide them.
Alternative treatments such as acupuncture, yoga and supplements may help with hot flashes and other early menopause symptoms. You may also try to avoid alcohol, coffee or caffeinated beverages and cigarettes. A healthy diet and exercising regularly may help manage early menopause symptoms as well. Dietary supplements containing calcium and vitamin D may help to reduce your risk of osteoporosis. There aren't any treatments, alternative or conventional, that can reverse menopause and make a woman fertile again, however.
The most commonly prescribed treatment for women undergoing early menopause is hormone therapy. It is important to bear in mind that the women's health initiative (WHI) studied the effects of hormone therapy on women 50 to 79 years old. The consequences of this therapy are not known for younger women who undergo surgical or treatment induced menopause or premature ovarian failure.
The WHI recommendations focus on the "routine" use of these therapies; early menopause, particularly through surgery, is arguably not routine. In fact, the benefits of hormone therapy for women under forty may well exceed the risks.
For younger women, hormone therapy can actually be a replacement for what they have lost prematurely. This is particularly true for women who have had their ovaries removed. Following natural menopause, the ovaries continue to produce low levels of hormones (including estrogen, progesterone and testosterone).
While your body has other minor sources of hormone production, if your ovaries are removed, this major source is gone.
Your assessment of whether to start or continue hormone treatment should center on whether the benefits exceed the risks for you as an individual. You may decide that you prefer nonhormonal or "natural" remedies to cope with the problems associated with early menopause. Such complementary and alternative practices include herbal medicine, phytoestrogens, special healthy diets, acupuncture, chiropractic, homeopathy and stress reduction techniques such as meditation, hypnosis, yoga and massage therapy. These natural remedies can be used instead of or in addition to medical therapies.
It is particularly important to discuss your situation with a healthcare provider who has extensive experience with early menopause as well as to familiarize yourself with the most current studies.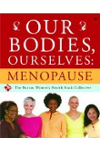 More About this Book
Our Bodies, Ourselves: Menopause
FROM THE EDITORS OF THE CLASSIC "BIBLE OF WOMEN'S HEALTH," A TRUSTWORTHY, UP-TO-DATE GUIDE TO HELP EVERY WOMAN NAVIGATE THE MENOPAUSE TRANSITION For decades, millions of women have relied on Our...
Continue Learning about Early Menopause