Early menopause has a number of potential causes. If you have had cancer treated with chemotherapy or radiation, your ovaries may stop working while you are still young. Turner's syndrome, a genetic condition, can also cause early menopause. Women with this condition have one X chromosome per cell as opposed to two. Autoimmune disorders such as thyroiditis, myasthenia gravis, and vitiligo can also cause early menopause. Finally, viruses such as mumps and certain toxins, including tobacco, can cause a woman to enter menopause early.
A woman who experiences menopausal symptoms before age 40 is considered to have early menopause. Some reasons a woman might reach menopause prematurely include the following:
Genes. Early menopause runs in some families. If your mother reached menopause before 40, there's a good chance you might too.
Removal of the ovaries. The ovaries produce eggs, as well as estrogen and other hormones. If a woman has her ovaries removed, she enters menopause immediately. Women may have their ovaries removed to treat or prevent certain cancers, among other reasons.
Chemotherapy and radiation. These cancer treatments may damage the ovaries, which could cause a woman under 40 to enter menopause.
Genetic diseases. Some genetic diseases, such as Turner's syndrome, make the ovaries unable to function properly.
Hysterectomy. This surgery removes the uterus, or womb. A woman who undergoes a hysterectomy stops having periods. She may also experience menopausal symptoms such as hot flashes if the procedure damages blood supply to the ovaries.
Autoimmune diseases. Diseases of the immune system, such as rheumatoid arthritis, can damage a young woman's ovaries, causing early menopause.
There are several possible causes of early menopause, including surgery, medical treatment, and early changes in ovary function. The various causes of an early menopause are:
Surgical menopause
Removal of both ovaries (bilateral Oophorectomy)
Removal of the uterus(hysterectomy)
Treatment-induced menopause
Radiation therapy
Premature ovarian failure (POF)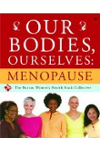 More About this Book
Our Bodies, Ourselves: Menopause
FROM THE EDITORS OF THE CLASSIC "BIBLE OF WOMEN'S HEALTH," A TRUSTWORTHY, UP-TO-DATE GUIDE TO HELP EVERY WOMAN NAVIGATE THE MENOPAUSE TRANSITION For decades, millions of women have relied on Our...
More often than not, the cause of early menopause is unknown. Some of the most common causes would be toxins/medications such as chemotherapy and radiation. Some autoimmune disorders can also cause early menopause, such as rheumatoid arthritis. Genetic causes include Turner syndrome, fragile x syndrome and others. Pelvic surgeries that affect the uterus or ovaries can cause early menopause. Lastly, some metabolic disorders or infections affecting the ovaries can also cause early menopause.
Continue Learning about Early Menopause