When your ovaries no longer work due to early menopause, you will be unable to get pregnant even though you may be well within traditional childbearing age. In some women, the loss of fertility causes them to become anxious and depressed, which can become a serious complication of the condition. The low estrogen levels associated with early menopause can also lead to decreased bone density and osteoporosis, as well as higher risk of cardiovascular disease.
If a woman experiences menopause just a few years earlier then she normally should, the problems will be similar to those who go through it the typical age range of 47 to 55. She will have hot flashes (flushes), vaginal dryness, vaginal tissue thinning and problems with sleep, sex and mood. But women facing early menopause are a unique group of women because their bodies will be without the protective effects of estrogen longer then if they underwent menopause at a normal age. Long-term consequences of estrogen depletion are many, including a higher risk for osteoporosis, fractures and heart disease. If you experience early menopause, talk to your doctor about whether the benefits of hormone replacement therapy (HRT) outweigh the risks.
It is a mistake to assume that early menopause is the same as normal menopause except that it occurs earlier. As mentioned previously, women under forty (particularly those who experience surgically induced menopause) are likely to suffer from more sudden and severe problems associated with menopause. In addition, younger women (particularly those under the age of thirty-five) who undergo menopause have not had time to benefit from the full number of years of premenopausal estrogen, progesterone and testosterone. Therefore, they may be at greater long-term risk for heart disease and osteoporosis.
In fact, women who experience surgically induced menopause or early menopause prior to the age of thirty-five may have seven times greater risk of coronary heart disease than women who undergo natural menopause after that age. Recent research indicates that though those who undergo menopause earlier have a reduced risk of death due to uterine or ovarian cancer, they have a somewhat shorter lifespan than those who undergo menopause later, due largely to heart disease and stroke. Make sure that your health care provider monitors these possible health problems so that you can get treatment if necessary.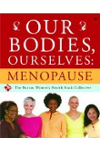 More About this Book
Our Bodies, Ourselves: Menopause
FROM THE EDITORS OF THE CLASSIC "BIBLE OF WOMEN'S HEALTH," A TRUSTWORTHY, UP-TO-DATE GUIDE TO HELP EVERY WOMAN NAVIGATE THE MENOPAUSE TRANSITION For decades, millions of women have relied on Our...
Continue Learning about Early Menopause