Early menopause often makes young women feel "out of step" with those in their peer group. They are experiencing a life change that ordinarily happens to much older women. This may hit you if a friend asks to borrow a tampon or a sister-in-law announces that she is pregnant. They are still menstruating and fertile. In addition, they are not suffering from hot flashes and don't look older as a result of hormonal changes. You may feel that, in certain ways, you no longer fit in. You may find it difficult to talk to others who can't fully understand what you are going through. It may, for example, upset you to attend a baby shower right after you have been diagnosed with early menopause or experienced sudden menopause following a hysterectomy or other treatment. You may have to give yourself time to heal before you ease into these types of situations. You have suffered a real setback, and it can be helpful to lower your stress level.
As with other unexpected life events, talking things through can be especially valuable. Joining a support group of women experiencing the same things may help you cope with your diagnosis. Support groups are a unique way to feel connected. They allow you to ask questions, share your experiences, and get advice from other women who understand.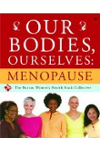 More About this Book
Our Bodies, Ourselves: Menopause
FROM THE EDITORS OF THE CLASSIC "BIBLE OF WOMEN'S HEALTH," A TRUSTWORTHY, UP-TO-DATE GUIDE TO HELP EVERY WOMAN NAVIGATE THE MENOPAUSE TRANSITION For decades, millions of women have relied on Our...
The women of today are more informed than of previous generations. Women can prepare to recongnize the changes in their bodies and make more prudent decisions as to how they want to proceed. Socially, women in early menopause can approach this time the same as they approach any other life change. By the year 2020 there will be more women post menopause then ever in history
Continue Learning about Early Menopause