When to remove tonsils continues to be contoversial. The American Academy of Otolaryngology-Head and Neck Surgery (professional assn for ear nose and throat doctors) recently issued some guidelines. To see them , check www.entnet.org.
If you have a tonsillectomy for recurrent tonsillitis, it will usually lessen the number and severity of infections, but not necessarily eliminate sore throats,since you can still get colds or pharyngitis.
Continue Learning about Ear, Nose and Throat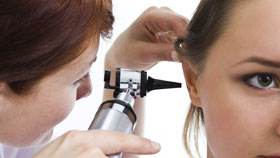 Ear, nose and throat (ENT) problems can impact your life in many ways, affecting your hearing, sleep, breathing, and even your sense of balance. An otolaryngologist, also called a head and neck surgeon, treats these issues, as wel...
l as more serious problems like cancer. Learn more about ear, nose and throat problems from our experts.
More