You might find some teenagers with large noses, but big ears are just not found on young people. Well, here's the news flash: it turns out that scientists in Italy have confirmed - ears actually do grow as we age.

That's right. Bones, stop growing after puberty and muscle and fat cells also stop dividing. But cartilage - that's the plastic-like stuff in ears and noses - cartilage continues to grow until the day you die. Not only does cartilage grow, but the earlobes elongate from gravity. And that makes ears look even larger.
Continue Learning about Ear, Nose and Throat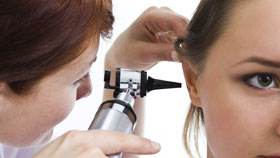 Ear, nose and throat (ENT) problems can impact your life in many ways, affecting your hearing, sleep, breathing, and even your sense of balance. An otolaryngologist, also called a head and neck surgeon, treats these issues, as wel...
l as more serious problems like cancer. Learn more about ear, nose and throat problems from our experts.
More