Ear wax works to protect the inside of our ears. In this video, Patrick Brown, MD, from Methodist Ambulatory Surgery Hospital explains this and other functions of wear wax.
The human ear needs ear wax (cerumen) to guard the delicate tissues against the ravages of soap and water pouring into the canal. The oily wax protects the ear by collecting debris, dust, bacteria and other harmful particles to prevent them from entering and damaging the ear canal. So, before you start to remove your ear wax with the stab of a cotton tip or hard shove of washcloth, read this: your ear is extremely delicate. Although you may not want to hear this, the human ear is not designed for swimming, daily shampoos, hot tubs, or scuba diving. Unfortunately most of us are taught as children to scrub our ears with soap and water. Or we've been told to use alcohol ear drops to dry up the moisture in the ear. Both are wrong.
It's true that in some people the glands in the ear produce more ear wax than can be removed. If this ear wax hardens in the ear canal, it may obstruct the ear and cause ear pain and/or hearing loss. See your doctor if ear wax is a problem for you.
Continue Learning about Ear, Nose and Throat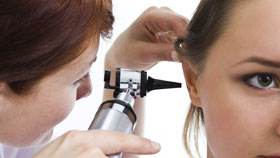 Ear, nose and throat (ENT) problems can impact your life in many ways, affecting your hearing, sleep, breathing, and even your sense of balance. An otolaryngologist, also called a head and neck surgeon, treats these issues, as wel...
l as more serious problems like cancer. Learn more about ear, nose and throat problems from our experts.
More