The white bumps that form on your tonsils can be bacteria, debris or microscopic food stuffs that accumulate over time. Watch Chadwick Ahn, MD, of Frankfort Regional Medical Center, explain why these are considered tonsil stones.
Continue Learning about Ear, Nose and Throat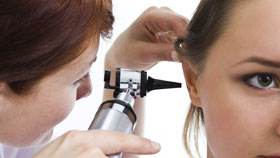 Ear, nose and throat (ENT) problems can impact your life in many ways, affecting your hearing, sleep, breathing, and even your sense of balance. An otolaryngologist, also called a head and neck surgeon, treats these issues, as wel...
l as more serious problems like cancer. Learn more about ear, nose and throat problems from our experts.
More